WHERE SINGING TELEGRAMS AND PARTY CHARACTERS NEVER GO OUT OF STYLE
We deliver lots of Smiles and Memories and we make it Extra Special call 617-354-5000
Text 781-608-9240
Meet our Family - Boston based serving New England Since 1981 Celeb
rating 40 years
Boston Party Solutions - Party Characters for Kids Boston - Corporate Event Boston Monkey Business Boston - Singing Telegrams New England - Kids World of Entertainment
Social Distancing In An Interactive Way Join the Fight Against Covid-19 "Staying Connected - Not Infected"
Specialists in Fun Social Distancing Singing Telegrams and Party Character visits for Curbside, Driveways, Lawns at Home, Work, Outdoor Events for Birthdays, Graduations, Schools, Parades, Town Days, and Fundraisers. Perfect Entertainment for Kids and Family Celebrations. Playing it safe is good for all of us!
You provide the location - We'll provide the rest
We love Making someone's Day Just A Little Nicer
Monkey Business Boston is the One Stop Shop for Extra Special Singing Telegrams 7 days a week.
We deliver lots of smiles, memories with Singing Telegrams that make an impression- Pink or Black Spiffy Gorilla-gram, Singing Chickens, 6ft red Lobster, a Singing Hot Dog, singing Cheeseburger, or Pepperoni Pizza. How about a silly Struttin Chicken or Gorilla singing Happy Birthday? Specialty Comedy Singing Grams : Naughty Nurse, French Maid, Disco Girl, Singing Cleopatra, Singing Army Pvt, Navy Girl, Cop, Singing Princess, Superhero and Cartoon Characters and the list goes on...
617-354-5000
We'll Take Care Of Everything
Party Characters for Corporate, Business, and Family
Meet - Greet - Music - Singalongs - Dancing - Games - Photos
Invite Us To Your Next Party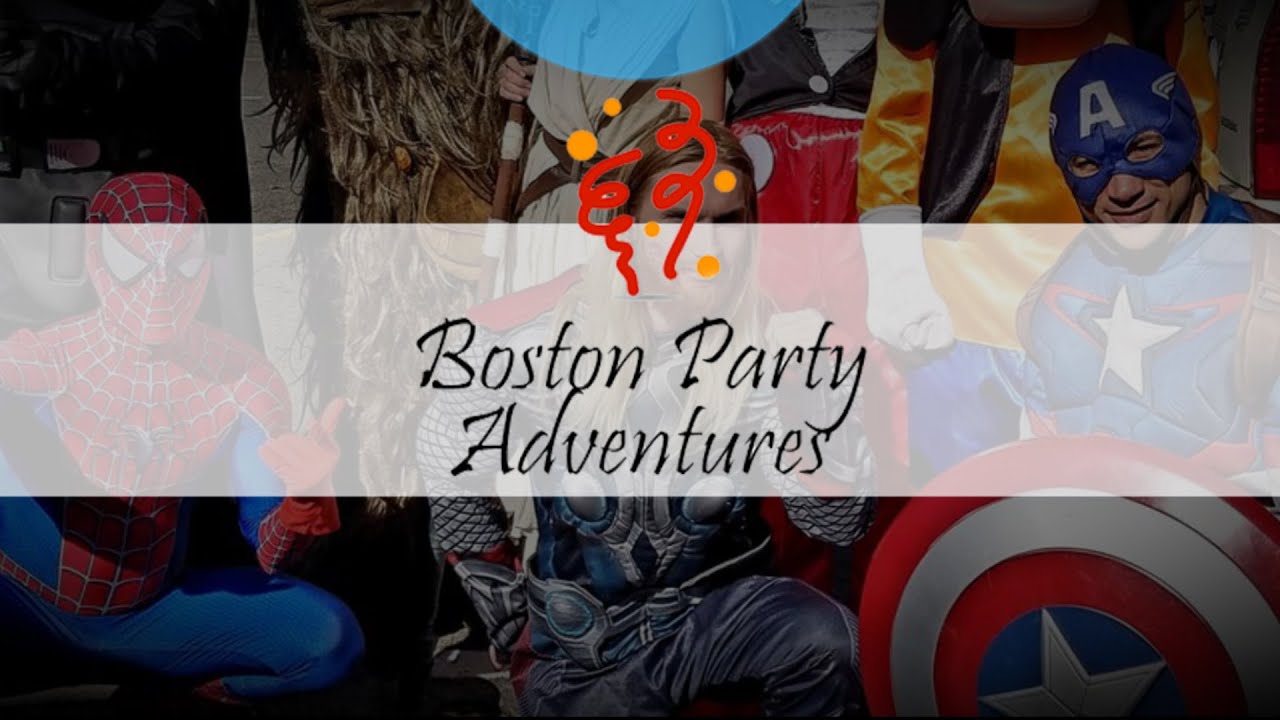 STEVEN AND ALLY PREPARING FOR CURBSIDE STAR WARS VISIT
We Take COVID-19 and Your Safety Very Seriously
We specialize in safe no-contact curbside deliveries to maintain social distancing. Boston Party Adventures is
based in Boston serving NE since 1981. We offer fun and very affordable Singing Telegrams and the Best Costume Character shows for any event.
Characters host fun music/dance visual character programs celebrating your special occasion and event.
Kids and family may watch or participate with character performers at a safe distance yet in an interactive way
in the backyard, on the deck, in the driveway, or watch from inside the doorway. Perfect for all family celebrations whether it be a Singing Telegram or Party Celebration. 617-354-5000 We are New England's "Best of the Best" almost 40 years...
Virtual Santa 5.0 star rating
Santa John hosted our virtual Santa event in our Town and the children and families had a wonderful time. While we were sad that we couldn't host our traditional in-person breakfast, Santa John made the event special for each family that joined us with hilarious jokes, holiday fun, and special holiday stories. Mrs Claus joined in the action as well. A good time was had by all. Thank you Santa John for reinventing our annual tradition!
Amanda S.
Sterling, MA
5.0 star rating
If I could give 100 stars I would. Kayla came as Ariel and Ally as Snow White. My daughter loooovea princesses especially Snow White. She met her favorite person and Ally was phenomenal with her! Both girls made this 4-year-old's entire life! They sang with the kids, made them balloons, taught them to be princesses, and even gave them tattoos. I would hire them again in a heartbeat!
Kelly H.
Mashpee, MA
5.0 star rating
The Ryan family would like to thank Scotty the spiffy gorilla for an incredible performance today!!! The Costume, the singing and the magic show was so memorable!!! Thank you again for making Greg's birthday even more special with your entertainment and special attention!! Our family will remember this for a lifetime!!
Kathleen J.
San Francisco, CA
5.0 star rating
What do you get a 15 year old boy for his birthday during a pandemic? A singing telegram! BPA was wonderful in putting together a personalized birthday song for my grandson. I had requested a country song that had special meaning for my grandson and me. Steven showed up right on time dressed as Luke Bryan and sang the song with revised birthday wishes lyrics! Both my grandson and his friend were entertained and impressed. Not an easy feat with teenage boys. Thanks BPA you made the day
Sara H.
Fremont, NH
5.0 star rating
These guys were great. Came when they said they were coming; costume looked like the actual character, in this case it was Pikachu! I had two costumes to choose from. They were hired for my daughter's 6th Birthday. Brought music, she sang songs ..... lots of dancing which was a big hit. Pikachu was a really good dancer and despite the heat, he kept his energy level high! Balloon animals that popped, but were made over despite popping. They were really nice guys and gave an awesome lift to the party!
Jeanne S.
Toronto, Canada
5.0 star rating
Steven was amazing and Joseph was very easy to work with. I loved how they called ahead for planning and was super punctual. My sister ADORED the singing pink gorilla on a unicycle. Highly recommended!
Holly Guglielmetti Attleboro, MA 5.0 star rating Not sure where to start! I called Joe to acquire some information regarding Blippi and having him attend a parade for my son for March, by the end of the phone call I had hired Ally, as Wonder Woman (we will get back to her in a second), Blippi, AND Darth Vader. Joe was incredible to work with, very flexible, and helped me out so much! Fast forward to this past weekend, Ally attended my daughter's birthday parade (VERY LAST MINUTE if I may add, I had called Joe LESS THAN A WEEK before my daughter's birthday and he made it happen!!!) Ally was INCREDIBLE! My daughter's exact words were "HOLY WONDER WOMAN!!" She was so surprised and Ally was amazing with the kids! We had no clue what we were going to do in regards to a COVID friendly event/parade but Ally went with it and light up the parade! I can't thank Joe or Ally enough, DEFINITELY made my little girl's 7th birthday one she will NEVER forget! I CANNOT RECOMMEND THEM HIGH ENOUGH! You will NOT be disappointed! **try not to wait last minute like I did though!**
Please note, I only had my 4 children stay after the parade for the presentation, however Ally was phenomenal and would be great with any group of kids! She did balloon figures, limbo, dancing games, SO MUCH FUN! 03-01-2021
Spiderman (Steven) and Wonder Woman (Ally) came to Camp Whitin for our Superheroes in Training camp for 4-6 year olds. Spiderman came with music ready to dance and party with the kids, doing tricks like leaping over the kids, juggling, and even riding a unicycle. Wonder Woman worked the crowd applying temporary tattoos. There was plenty of time for pictures and both performers were very enthusiastic and loved every second with these great heroes! The counselors and staff were very impressed with their level interaction with all of the kids. Joey, the agent, was so helpful in working out all of the details and called within a half hour after the event to tell me how much fun his performers had. The performers were on time, and ready to get to it as soon as they arrived. All in all it was a great experience and I look forward to working with them again for future events.
I was so impressed with Boston Party Adventures. Joe was very professional and easy to work with setting everything up and they did a phenomenal Minnie and Mickey show at my daughter's second birthday party. She was SO happy. They really did a fabulous job interacting with the kids. Some characters just kind of stand there but these guys were very entertaining and worked hard to make sure the kids had fun. They were also very cognizant of kids who were afraid of characters and didn't approach/overwhelm them. We were so happy with everything and I absolutely recommend them for characters.
Spoke to joe, needed a singing pink gorilla. He came on a unicycle up the driveway blasting Beyonc "all the single ladies" but singing birthday lyrics over it- hilarious. Kids (5,4,2) loved it and were in the driveway dancing around him. He then got everyone to do the chicken dance and the kids thought it was the funniest thing they had ever seen. Very fun! Gorilla was Steven- this guy is very good on a unicycle very impressive!
Very happy with their service. They were able to accommodate a same-day last minute request for a birthday and everything turned out perfectly. Everyone had a blast. Great communication from the owner. The performance from the Minion actor was hilarious and everyone loved it. Highly recommend!
Awesome Elmo, Great Caricaturist!! We had a great birthday for my son who turned 1! Everyone loved Elmo - he did a great job at keeping all the kids and adults engaged and entertained. The caricaturist did a great job with her drawings! IT was great to work with Joe, the event coordinator, he was on top of everything and kept the event aligned!
I ordered a pink gorilla singing telegram to my wife's work for our anniversary and she loved it, thank you so much! It was perfect and she was absolutely surprised and had a blast! Her coworkers all loved it as well and could not stop laughing and cheering!
Matt (dressed as Mickey Mouse) came to my son's 3rd birthday and did a great job! Very entertaining for kids and adults. He got everyone to sing some of the Mickey clubhouse songs. He sang Happy Birthday to my son. He had some fun dance moves; even did the floss, which my kids went wild over. Thank you!
Great Fun! Boston Party Adventures was easy to work with, performers were on time and great with the kids!
HEROES! They were an amazing team!!! The adult and kids couldn't get enough. worth every cent!
Hi I'm just writing to you to let you know how wonderful the Woody character was that came to my grandsons 9th Birthday. Steven was so engaging. Dancing, music, unicycling, bouncing in the bounce house with the kids, he was just all around fabulous. He saw my grandson was a bit hesitant and he engaged him kindly. Of course his brother was grabbing his hat and jumping on him and he handled that with gently redirected fun!
He answered questions about other toy story characters like a pro.
Given this time of covid 19 he stayed away from adults and kept his costume on at all times. He made it a celebration! Thank you so much. Feel free to use me as a reference. He's was early to the party and helped to make a birthday boy who couldn't have a party with classmates and a ton of friends the best birthday!
Thank you, Susan 05-07
If you enjoyed your experience with us, positive reviews on Facebook and Yelp are greatly appreciated!
Meet our family: BostonPartySolutions.com PartyCharactersBoston.com CorporateEventBoston.com MonkeyBusinessBoston.com KidsWorldofEntertainment.com SingingTelegramsNewEngland.com LMPKevents.com BostonPartyCharactersForKids.com
organizing an event? Planning a Party?
We are here for all your event and party planning needs!